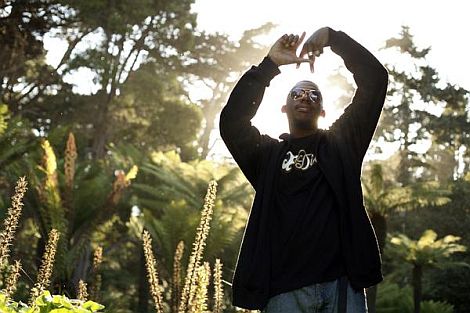 Flying Lotus's third full-length, Cosmogramma, was released in May of this year. FlyLo's personal sphere of inspiration while making the record reportedly gravitated around his own mother's untimely death, and it's probably now appropriate to mention the Los Angeles beat-maker's blood connection to Alice and John Coltrane, as their astral inspired brand of free jazz seemed to be an important musical signpost Steven Ellison aspired to channel on the record (Cosmogramma refers to a lecture Alice Coltrane gave). Trane's son Ravi can even be heard with a tenor sax on two of the seventeen tracks. With this in mind, it's a good guess Cosmogramma is much more inspired by the Coltranes or even Sun Ra rather than FlyLo's contemporaries. The new exploration of sound was a bold move, and one that more than paid off. Flying Lotus has managed to transcend the sound and scene he helped create by completely stepping into a realm beyond the general approach of electronic music.
Cosmogramma itself flows as a singular experience. It creates a context that lives up to it's astral-based name, born from a place that feels more connected with spiritualism, psychedelia, place and time. Something to fall into. The scene from which it was born still remains though, it's just hard to imagine anything like this coming from something built upon a collective. It boasts Flying Lotus's vision as a producer and musician. There's a moment with some records where you feel the music is really only a means to an end. Where the musician's voice is alluding to something deeper and bigger instead of just pulling back a curtain to show you a couple songs they made, which in most cases could describe (however fantastic) the sound that's come out of LA in the wake of Flying Lotus's Los Angeles. Or even electronic music as a whole. It's something historically relegated to high concept music, definitely not hip-hop inspired beats.
As I mentioned in Part I, J Dilla's Donuts was a sort of opus for his experience and memories. And feels like that in how cyclical and fleeting it is. Dilla is known for aesthetics, but it's that element of Dilla's musical voice that lasts, especially as a statement right before his death. Flying Lotus has built that into his own music, starting with Los Angeles and making it completely his own with Cosmogramma. It's easier to talk about how Dilla's "submerged" bass lines or FlyLo's off-beat programming helped create something new in electronic music (it's definitely important) than how these guys have brought something unique and highly affecting in regard to their personal outlook and perspectives, communicated through their music. But, oh well, I guess. In the end the musical experience speaks for itself. What's the point of trying to force it into words (like I'm doing right now)? Listen to the records.
With all that said, in 2010 Los Angeles still stands and Flying Lotus's Brainfeeder record label is in a prolific infancy. More than a few talented producers have come out of the city or are making their name as apart of the Brainfeeder crew. Here are a couple of my favorite records out of that scene from this year:
Baths – Cerulean
More than a few have compared Baths to Flying Lotus when his debut, Cerulean, dropped in June. You don't have go any further than the gorgeous opening track, "Apologetic Shoulder Blades," to hear the rickety beat, yet you'll hear the immediate difference on that track as well. Baths employs his own angelic falsetto, often burying it into the samples or creating new loops from it, to create something easier described as pop amongst a sample chopped melodic aesthetic. Despite it's dreamy pop leanings, the beats provide some teeth to the whole thing that drop it into somewhat of a crossover position, satisfying indie kids and electronic fans alike.
httpv://www.youtube.com/watch?v=ANHu6CUnOro
Lorn – Nothing Else
One of the few Brainfeeder standouts, Lorn creates a little bit of trip-hop or IDM–maybe even a little dubstep. His midrangey drum loops and grinding bass tones make him an adequate addition to Brainfeeder even if he's not a Los Angeles native. Lorn provides a little more momentum than most out of the LA scene, with gorgeous percussive samples contrasted with break beats and huge synths.
Teebs – Ardour
Another faithful FlyLo/Brainfeeder acolyte, Teebs keeps things pretty simple, with a track rarely going over three minutes. The focus is on huge intricate bass kicks and lovely Dilla style snares. Both do a good job at shaking up the hazy cascading samples that can often sound more like melodic found-sound than anything chopped for beats."Pretty" is an adjective thrown around a lot when Teebs is around (it sounds like the cover art–drawn by Teebs), but like Baths, there's some undeniable weight beneath it all.
Gonjasufi – A Sufi and a Killer
It helps this record's case that the beats are provided by Brainfeeder artist, The Gaslamp Killer (FlyLo contributes the track "Ancestors" as well). Gonjasufi is best known for a guest spot on Los Angeles as one of the few vocal contributions. The LA-native's follow-up is definitely a fitting sequel to the hazed-out "Testament." Sufi's voice sounds like beautiful burnt lungs and if his name doesn't explain enough, the intro track, composed of nothing but an unaffected sample of an American Indian pow wow, certainly will. The record makes stops at Eastern-tinged pop to "I Wanna Be Your Dog" style rock.
Flying Lotus – Pattern+Grid World EP
Oh yeah, FlyLo put out an EP last month that splits the difference between his old sound and Cosmogramma. Tonally it sort of feels like a more experimental take on his "fun" 1983, Adult Swim bump music contribution days.