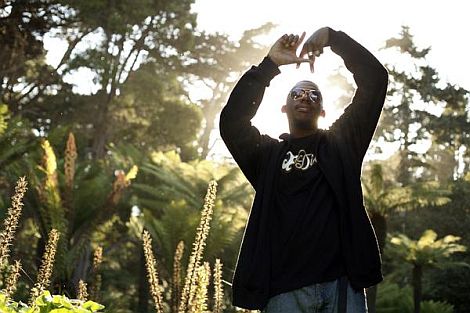 Flying Lotus's third full-length, Cosmogramma, was released in May of this year. FlyLo's personal sphere of inspiration while making the record reportedly gravitated around his own mother's untimely death, and it's probably now appropriate to mention the Los Angeles beat-maker's blood connection to Alice and John Coltrane, as their astral inspired brand of free jazz seemed to be an important musical signpost Steven Ellison aspired to channel on the record (Cosmogramma refers to a lecture Alice Coltrane gave). Trane's son Ravi can even be heard with a tenor sax on two of the seventeen tracks. With this in mind, it's a good guess Cosmogramma is much more inspired by the Coltranes or even Sun Ra rather than FlyLo's contemporaries. The new exploration of sound was a bold move, and one that more than paid off. Flying Lotus has managed to transcend the sound and scene he helped create by completely stepping into a realm beyond the general approach of electronic music.
Cosmogramma itself flows as a singular experience. It creates a context that lives up to it's astral-based name, born from a place that feels more connected with spiritualism, psychedelia, place and time. Something to fall into. The scene from which it was born still remains though, it's just hard to imagine anything like this coming from something built upon a collective. It boasts Flying Lotus's vision as a producer and musician. There's a moment with some records where you feel the music is really only a means to an end. Where the musician's voice is alluding to something deeper and bigger instead of just pulling back a curtain to show you a couple songs they made, which in most cases could describe (however fantastic) the sound that's come out of LA in the wake of Flying Lotus's Los Angeles. Or even electronic music as a whole. It's something historically relegated to high concept music, definitely not hip-hop inspired beats.
As I mentioned in Part I, J Dilla's Donuts was a sort of opus for his experience and memories. And feels like that in how cyclical and fleeting it is. Dilla is known for aesthetics, but it's that element of Dilla's musical voice that lasts, especially as a statement right before his death. Flying Lotus has built that into his own music, starting with Los Angeles and making it completely his own with Cosmogramma. It's easier to talk about how Dilla's "submerged" bass lines or FlyLo's off-beat programming helped create something new in electronic music (it's definitely important) than how these guys have brought something unique and highly affecting in regard to their personal outlook and perspectives, communicated through their music. But, oh well, I guess. In the end the musical experience speaks for itself. What's the point of trying to force it into words (like I'm doing right now)? Listen to the records.
With all that said, in 2010 Los Angeles still stands and Flying Lotus's Brainfeeder record label is in a prolific infancy. More than a few talented producers have come out of the city or are making their name as apart of the Brainfeeder crew. Here are a couple of my favorite records out of that scene from this year:
Continue reading Feeding Brains, Post-Dilla, and the Los Angeles Sound: Part II